Annapolis, Maryland, Is the Jewel of the Chesapeake By John Mariani
Date: Huffington Post, May 20th, 2016
For a city of only eight square miles—one of them water—Annapolis has a remarkable mix of the historic, the quaint, and the majestic. The first of those may be segmented into Colonial, Revolutionary, Civil War, and twentieth century periods, so that Annapolis's architecture is a hodgepodge of slatted wooden houses and mansions like the striking Hammond-Harwood House built in 1774, said to have "the most beautiful door in America"; red brick Georgian government buildings, including the high-on-a-hill Maryland State House (below)—the oldest capitol in continuous legislative use since 1772; and the expansive buildings of the sprawling U.S. Naval Academy, whose majestic Chapel, which holds the crypt of John Paul Jones, was dedicated in 1908.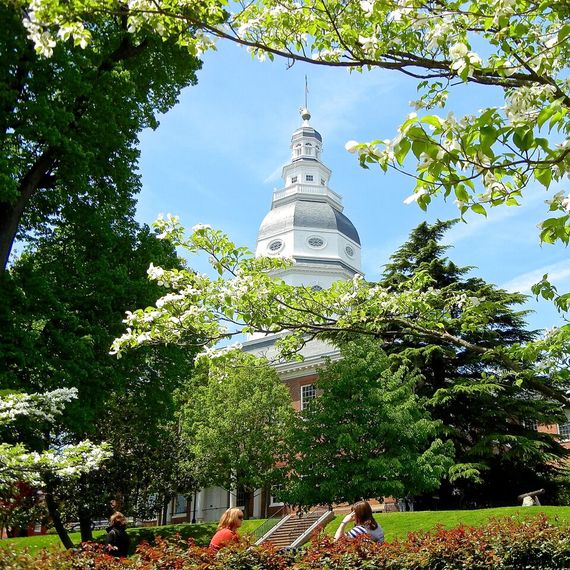 There is history at every corner of the city. Annapolis was the nation's first peacetime capital of the new United States after the signing of the Treaty of Paris in 1783, ending the Revolutionary War, and where General George Washington resigned his commission as commander-in-chief of the Continental Army. It was not until 1845 that the Naval Academy was founded here, now spread over 338 impeccably maintained acres of campus, classrooms, a vast sports center, and a dormitory of daunting size and architectural beauty; Bancroft Hall houses 4,000 midshipmen in 1,700 modern rooms.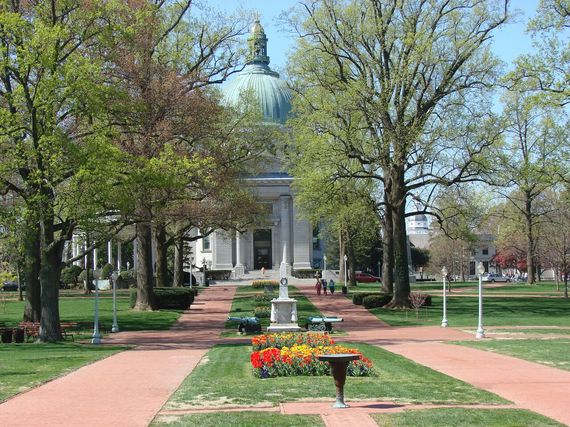 It is thrilling to visit this exceptional campus—which they call "the Yard"— to see the Midshipmen in their variously colored uniforms, men and women from every state, race, national background and creed, studying everything from mathematics, science, and liberal arts to the history of war and the strategies of generals going back to Alexander the Great.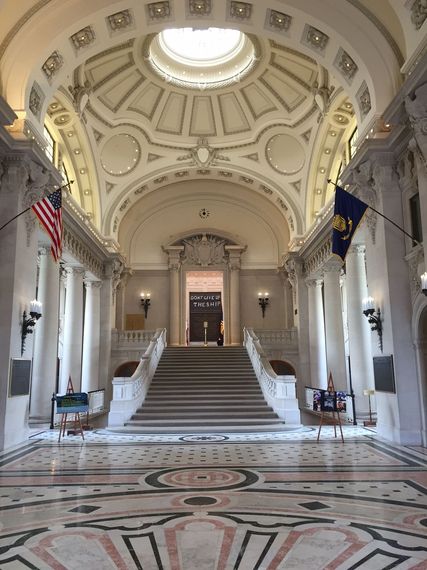 Their curriculum is in many ways tougher than at even the most prestigious universities, for aside from requirements to pass strenuous physical tests of strength and stamina, the Midshipmen must also maintain high academic standards. Many grads who are commissioned as officers. go into the Navy, some the Marines, others the air forces of those two arms. It is a difficult school to get into and tough to get through. Time off base is restricted. All must live by an honor code. No one pays tuition.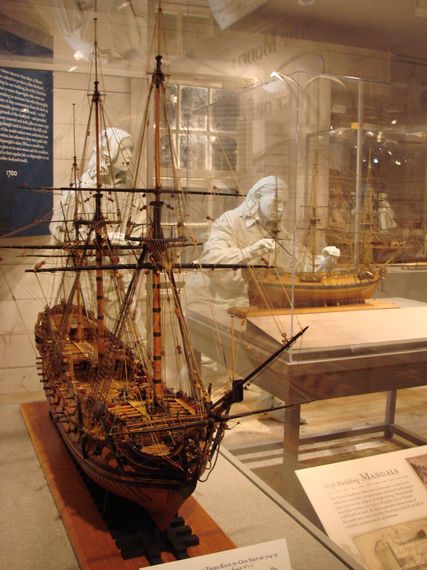 Preble Hall houses the Naval Academy Museum (above), containing 6,000 prints depicting European and American naval history from 1514 through World War II and one of the world's best ship model collections, with many made entirely of whalebone.
Maryland was a border state and Annapolis was a Union stronghold during the Civil War so it suffered no damage, although 24% of the Naval Academy officers joined the Confederate cause, many serving in the South's meager navy. As a result, many of the city's colonial and ante-bellum houses still remain intact, with approved, color-coded plaques next to their doors explaining their role in the city's history or what famous personage once lived there. Streets retain their 18th century English names—Duke of Gloucester, King George's, Hanover—and, although the city lost most of its commercial maritime industry to Baltimore by the 1780s, this is still very much a port for recreational boating. Indeed, just a month ago the downtown port was completely renovated at a cost of $6.1 million, with a new seawall and widened boardwalk.
The city radiates out from the port, ringed with eateries, taverns, antique stores, and boutiques, and there has always been a vibrant professional and community theater scene within the historic district, including the Colonial Players—its musical staging of "A Christmas Carol" is now an annual event— and the Annapolis Summer Garden presents outdoor productions each year. There is even a small Shakespeare company.
What I love best about the city, which I think of more as a large town, is that it's so pleasingly walkable. It was not designed on some rigid grid pattern—from the air it looks like a maze—instead retaining centuries' old narrow streets and corridors, mews and alleyways, some little more than cul-de-sacs, others that were once pathways for driven cattle. The round-abouts at Church Circle and State Circle slow everyone down to a civilized pace, and steepled churches pop out from unexpected places; there is also a memorial to Kunte Kinte, the real-life person who first set his shackled foot in America and was the inspiration for the slave hero of Alex Hailey's novel Roots.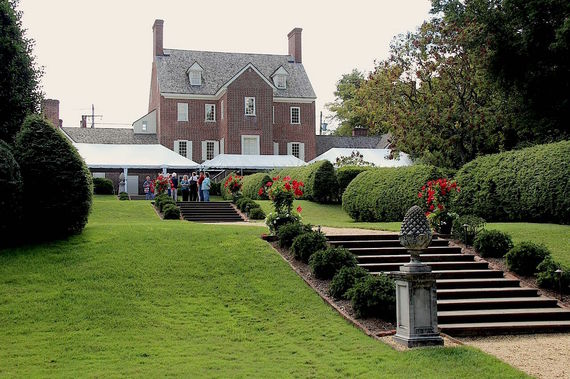 One of the most remarkable of the old mansions is the beautifully restored, five-part Georgian mansion called William Paca House and Garden (above), reclaimed from what was barely a shell of a 19th century entrance to a hotel and named after a signer of the Declaration of Independence. Today its impeccably reconstructed two acre garden grounds now frequently used for weddings and other celebrations.
One spot I almost overlooked is the Historic Annapolis Museum Store on Main Street, just across from the City Dock. Inside the solid brick structure is a shop full of souvenirs devoted to local craftspeople, and upstairs is a small but very impressive exhibit entitled "Freedom Bound: Runaways of the Chesapeake," which relates the sad but inspiring stories of nine servants and slaves who tried to escape bondage between 1728 and 1864. Through documents taken from the city's Maryland Gazette along with dramatic voices and visuals to tell their tales, the people tell their stories again, including the astonishing romance of an Irish-American girl whose love for an escaped black slave was so strong that, upon his capture, she chose to join him on the slave plantation rather than to live her life as a free woman without him.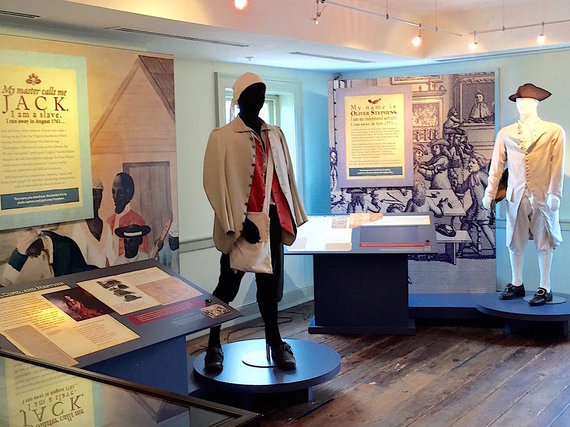 You are never far from such echoes of history while walking the streets of Annapolis, cut into by the blue waters of the Chesapeake Bay, discovered by Giovanni da Verrazano in 1524. The Bay still flows for 200 miles to the Atlantic, that rough ocean so many of the city's immigrants, many not by choice, once sailed so many centuries ago.
Add to Calendar 19-05-2016 35 Annapolis, Maryland, Is the Jewel of the Chesapeake By John Mariani DD/MM/YYYY